About Us
MAC with over glorious 57 years of indomitable national presence has gained indisputable credibility and deep understanding of its customers. It was the first Indian company to introduce import substitute in the local market. It has always been our endeavour to have customer's convenience in mind which constantly compels us to modify and improve upon our products continuously so that they have better acceptance by the end user.
A full-fledged dedication and consistent effort accompanied by the blessings of elders guided Mr O.P. Manchanda to establish MAC which with the passage of time made a mark in the scientific journey of his life and to top of all he worked passionately hard, single handedly. A son of a cloth merchant dreamt big and today his own son Rajiv Manchanda and grandsons Bhavya Manchanda and Rohan Manchanda have accompanied him to fulfil his dream. They emerged and how? Our strong foothold in the scientific industry is due to the provision and efficiency that is achieved painstakingly at our extremely modern manufacturing unit.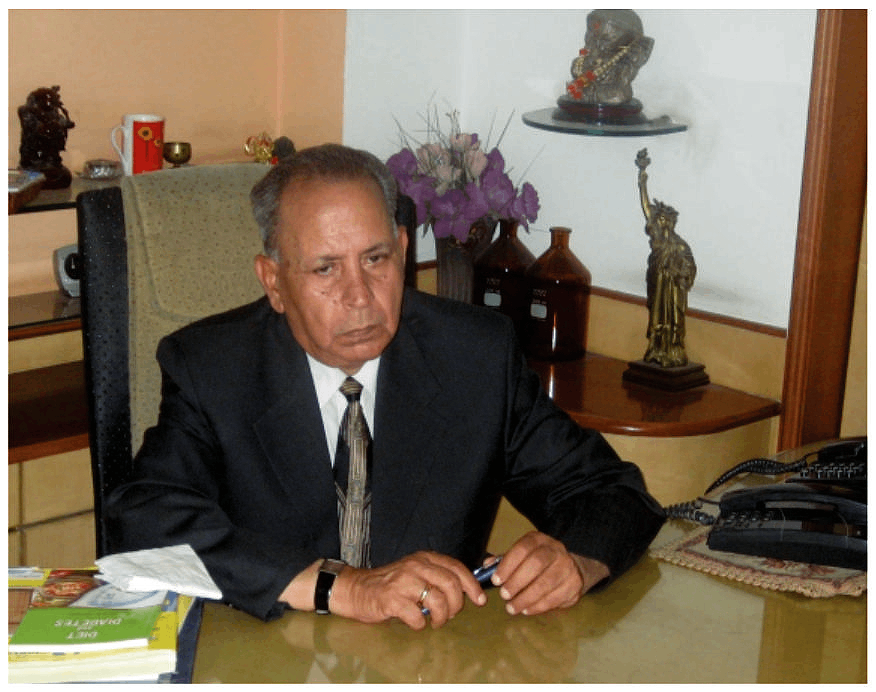 We at MAC introduce to you our new approach towards the Science of Life. To us, this change is not a concept but and endeavour to evolve with age; to make a difference by generating newer possibilities with cutting edge technologies. What remains steady and constant is the old spirit in MAC and the values it stands for. With deep knowledge and understanding, we are able to secure the highest standards of safety and utmost customer satisfaction in all our operations and works. We grow, we change, as our ideology becomes stronger with responsibility and experience.
MAC has been at the forefront of scientific equipment manufacturing for glorious 57 years. What makes MAC most proud is its contribution to science and the crucial role it plays in introducing pioneering technology and daring advancements in the field of science. MAC brings with it a fresh lease of life that moulds and otherwise abstract concept of science and change into a tangible product that allows for progress within the field of science and technology. The primary aim of the company has always been to harness the power of science and channel it towards improving the quality of life and the environment we live in. To us User, Product and Environment Safety comes first.
Quality Standards
At MAC we keep the highest quality standards on top priority while developing our range of laboratory equipment and instrument. Our consistent approach towards the up-gradation of technologies and methodologies are the principal reason that we consistently improve our products to ensure reliability at each level of instrument production. Our in-house testing lab with an effective auditing system for test procedures accounts for various validations required to maintain industry standards.
After Sales Service
MAC is recommended for its unmatched after-sale services wherein rarely available options of customization are available. Its popularity is also the result of its cost-effective solutions. Our primary aim is to strive hard to cater to our clients need with quality product and the best services to meet the overwhelming demand of this community in the best possible manner.
Infrastructure And Facilities
MAC's ultimate goal is customer satisfaction with simple solutions in the safest methods possible. It aims to create an identity within the scientific instruments industry as the most trusted manufacturer, supplier and service provider of scientific equipment. It has its eyes set on consistently improving technology and enabling itself to be a one-stop solution for any high-quality scientific equipment demand.
Ours is a centrally located PRODUCTION HOUSE located in the heart of one of the most prestigious INDUSTRIAL AREAS of Delhi, with one of the soundest infrastructural set-up having latest and state of the art machinery all under one roof. These in house facilities enable us to meet up to all manufacturing standards and challenges, this reflecting on the workmanship and quality of our equipment. Our manufacturing unit is equipped with State-of-the-art automatic machinery such as CNC Turret Punch Press, CNC Laser Cutting Machine, CNC Turning Center, CNC Press Brakes, CNC Laser Seam Welding Machine, CNC Lathe Machines, and TIG-MIG Welding Machines, etc. We have a dedicated team of qualified and trained TECHNICIANS and SALES PROFESSIONALS working with their utmost efficiency to provide quality instruments and services to customers and hence the brand "MAC" itself indicates the perfect dealing in the field of scientific instrumentation. Further our in-house testing facilities and procedures reflect on the quality and longer life of our equipment. We are quality conscious production house and our aim is just to win the goodwill of our clients by supplying quality equipment at a competitive price. However, this is how we are getting regular and repeated business, being multiplied year after year. Our corporate goals are underpinned by our code of Principles which describes the functional standards that every member of MAC follows, wherever they are in the world. This code supports the trust we earn and the personal responsibility we undertake in all our operations.
Professional Teams And Values
We are committed to continuously improving the way we manage our environment, product and user impact. Our team is the principal reason that we are consistently improving our products as well as client servicing. We take great pride in our people and of their talent, drive, and enthusiasm. Our tremendous success belongs to our expert and dedicated team of engineers, technician, managers, sales professionals, co-workers who fuelled their best efforts in the growth and advancements of the organization.
With our unwavering will to grow, we are proud to have a team, who shares an undying passion and youthful enthusiasm that make impossible accomplishments, an everyday affair, for the company. Our more than 57years of grand achievement, our unquestionable pre, and post-sale services, world-class products, our future endeavors, are what make MAC a cut above the others. Our team is what makes MAC, as we know it today.
Conducting our operations with integrity and with respect to the many people, organizations, and environments our business touches have always been at the heart of our corporate responsibility.
Testing & Valuation
MAC's in-house testing lab with Govt. recognized ultramodern calibrators and certified test procedures account for various validations required to maintain industry standards. On-site validation services:

21 CFR Compliant Services
Flexible Validation Packages
Calibrations
Installation Qualification (IQ)
Operational Qualification (OQ)
Performance Qualification (PQ)
Design Qualification (DQ)
Factory Acceptance Test (FAT)
Calibration/Traceability Reports – Multipoint Mapping of the equipment with certified calibrators
Future Promise
Once you invest in MAC, our superior products will last you a lifetime. Even after your purchase, our dedicated team is always there for you. This special touch of world-class service is exactly what has made MAC one of the leading companies in this industry. Now, after 57 years in the business, we are on the verge of entering a new era; gradually expanding across the globe, with our roots still firmly grounded in India. Our latest project is a top-notch, research and development laboratory which also serves as a state-of-the-art manufacturing unit, it is a testament to our passion for our work. We hope that it will serve as an adequate platform for our future endeavors, at the core of which will always lie our clients' needs and demands.
Additionally, we have also diversified into exports to make our company more self-reliant. None of this would have been even remotely possible without our exceptionally qualified and talented team. Like our company and its products, they too are unique and extraordinary.